ALTRA TOP10 DI STAGIONE DI SIMONE CORSI
12/09/2021
CONCLUSIONE AMARA DEL GP DI CASA PER IL TEAM MV AGUSTA FORWARD RACING
19/09/2021
Cielo nuvoloso e forti piogge hanno accolto i piloti del Team MV Agusta Forward Racing nella prima giornata del Gran Premio di San Marino e della Riviera di Rimini.



Le previsioni del tempo sono state ampiamente confermate per quel che riguarda il venerdì di prove libere del GP di San Marino sul Misano World Circuit Marco Simoncelli: entrambi i turni di libere della giornata si sono infatti disputati sotto forti piogge, con pista bagnata. Lorenzo Baldassarri è rientrato in pista, dopo aver saltato l'ultimo weekend di gare per recuperare al meglio la condizione fisica, con il giusto piglio e tanta determinazione. Il pilota marchigiano ha macinato parecchi chilometri, mostrando esperienza con la sua F2 sul bagnato, ed ha concluso la giornata a soli 56 millesimi dall' accesso diretto alla Q2 con il tempo di 1'51.388 Discorso analogo per Simone Corsi che ha compiuto 35 giri totali, con un miglior tempo di 1'51.799, a quattro decimi dal compagno di squadra Baldassarri. Il tempo sembra tornare clemente per la giornata di domani e, di conseguenza, anche le condizioni di pista cambieranno totalmente per quella che sarà un'importante giornata di qualifiche che avrà inizio alle 10:55 con il terzo turno di libere.
Cloudy skies and heavy rain welcomed the MV Agusta Forward Racing Team riders on the first day of the San Marino and Riviera di Rimini Grand Prix.





The weather forecasts were widely confirmed for Friday's free practice of the San Marino GP at the Misano World Circuit Marco Simoncelli: both free practice sessions of the day were held under heavy rain, with a wet track. Lorenzo Baldassarri returned to the track, after having skipped the last race weekend to recover his physical condition, with the right attitude and a lot of determination. The italian rider has covered many kilometers, gaining experience with his F2 in the wet, and finished the day just 56 thousandths of a second from the direct access to Q2 with a time of 1'51.388. A similar situation for Simone Corsi who completed 35 laps in total, with a best time of 1'51.799, four tenths of a second behind his team mate Baldassarri. The weather seems to be good again for tomorrow and, consequently, also the track conditions will change completely for what will be an important qualifying day that will start at 10:55am with the third free practice session.
---
Lorenzo Baldassarri #7



"Sono molto contento per come è andata la gara di oggi. Abbiamo fatto una buona rimonta per essere la prima gara qui con il Team e con la moto. Abbiamo sfruttato al massimo il tempo in pista e abbiamo lavorato bene. Ringrazio il team Mv Agusta Forward Racing per l'opportunità e tutti i ragazzi del team che hanno lavorato bene e sono stati veloci, spero di poter lavorare ancora con loro".
Lorenzo Baldassarri #7



"I'm very happy to be back in the saddle after a stop race, which was very useful to get back to my 100% both in terms of physical and mental fitness. Unfortunately, the weather conditions today didn't help us much, we did both sessions in the rain, but we took advantage of the time on track to get a feel for the F2 in the wet. I hope tomorrow will be nice weather, to make the most of the beauty of this home Grand Prix weekend together with the team and the fans who are here with us. I'll give my best and I'm ready to fight to make a good weekend."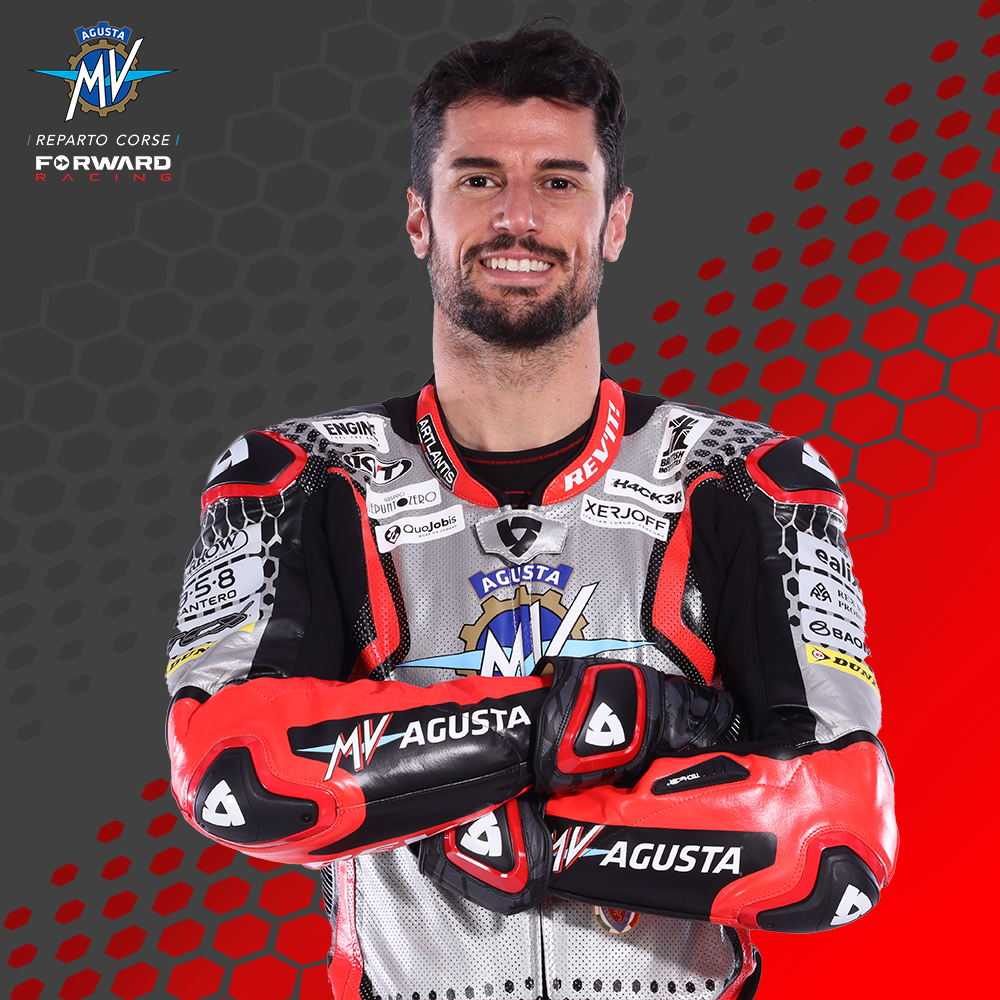 Simone Corsi #24



"Oggi è stata una giornata strana. Stamattina il feeling era buono, mentre nel pomeriggio è stato un po' più complicato: siamo partiti bene, ma poi abbiamo messo due gomme nuove e non avevo un buon feeling all'ultimo. Speriamo che domani sia asciutto, e nel caso sarà importante andare forte subito. In ogni caso siamo pronti per fare un bel week end qui a Misano".
Simone Corsi #24



"Today was a strange day. This morning the feeling was good, while in the afternoon it was a bit more complicated: we started well, but then we put on two new tires and I didn't have a good feeling at the end. We hope that tomorrow will be dry, and in this case, it will be important to go fast right away. In any case we are ready to have a good weekend here in Misano".