È TEMPO DI SCALDARE I MOTORI! IL TEAM FORWARD INIZIA LA STAGIONE 2023 CON DUE GIORNI DI TEST A JEREZ DE LA FRONTERA
15/03/2023
Milano: Si è tenuta giovedì 9 marzo la presentazione del Team Forward presso il suggestivo locale di Milano, the Grace Club.



Madrina della serata una splendida Vera Spadini, affiancata dall'esperto Sandro Donato Grosso e dall'esuberante Rosario Triolo. A partire dalle ore 20.00 la presentazione si è tenuta in presenza per ospiti, media, stampa e partner, e trasmessa al contempo in streaming sui principali canali social. Durante la serata, è stata svelata la nuova livrea per la stagione 2023 e sono stati condivisi i progetti e gli obiettivi per il Campionato del Mondo MotoGP categoria Moto2 e per il Campionato FIM JuniorGP categoria Moto2. In particolare, sono state illustrate le strategie per affrontare le sfide della nuova stagione, le iniziative di sviluppo e gli investimenti del team. La presentazione ha rappresentato un'occasione per incontrare i piloti, Marcos Ramirez e Alex Escrig, e per conoscere il nuovo staff tecnico, che porterà un valore aggiunto al team. I partecipanti hanno potuto anche scoprire tutte le ultime novità in vista della stagione 2023 e conoscere meglio la filosofia e i valori della squadra. L'evento ha permesso di mostrare al pubblico l'impegno e la passione per il motociclismo. L'intero Forward Team. desidera ringraziare tutti coloro che hanno partecipato alla presentazione e che hanno dimostrato il loro sostegno. Giovanni Cuzari patron del team ha infatti dichiarato: "Siamo entusiasti di iniziare la nuova stagione con la nostra squadra e con il supporto dei nostri fornitori, sponsor, dei fan e degli appassionati di motociclismo".
The presentation of Team Forward was held on Thursday 9 March at the charming Milan venue, the Grace Club.





Godmother of the evening was a beautiful Vera Spadini, flanked by the expert Sandro Donato Grosso and the exuberant Rosario Triolo. Starting at 20.00, the presentation was held in the presence of guests, media, press and partners, and streamed on the main social channels. During the evening, the new livery for the 2023 season was unveiled and the plans and objectives for the MotoGP World Championship Moto2 category and the FIM JuniorGP Championship Moto2 category were shared. In particular, the strategies to face the challenges of the new season, the development initiatives and the team's investments were illustrated. The presentation was an opportunity to meet the riders, Marcos Ramirez and Alex Escrig, and to get to know the new technical staff, who will bring added value to the team. Participants were also able to discover all the latest news in view of the 2023 season and learn more about the team's philosophy and values. The event made it possible to show the public the team's commitment and passion for motorcycling. The entire Forward Team. would like to thank everyone who attended the presentation and showed their support. Team owner Giovanni Cuzari said: "We are excited to start the new season with our team and the support of our suppliers, sponsors, fans and motorcycling enthusiasts".
---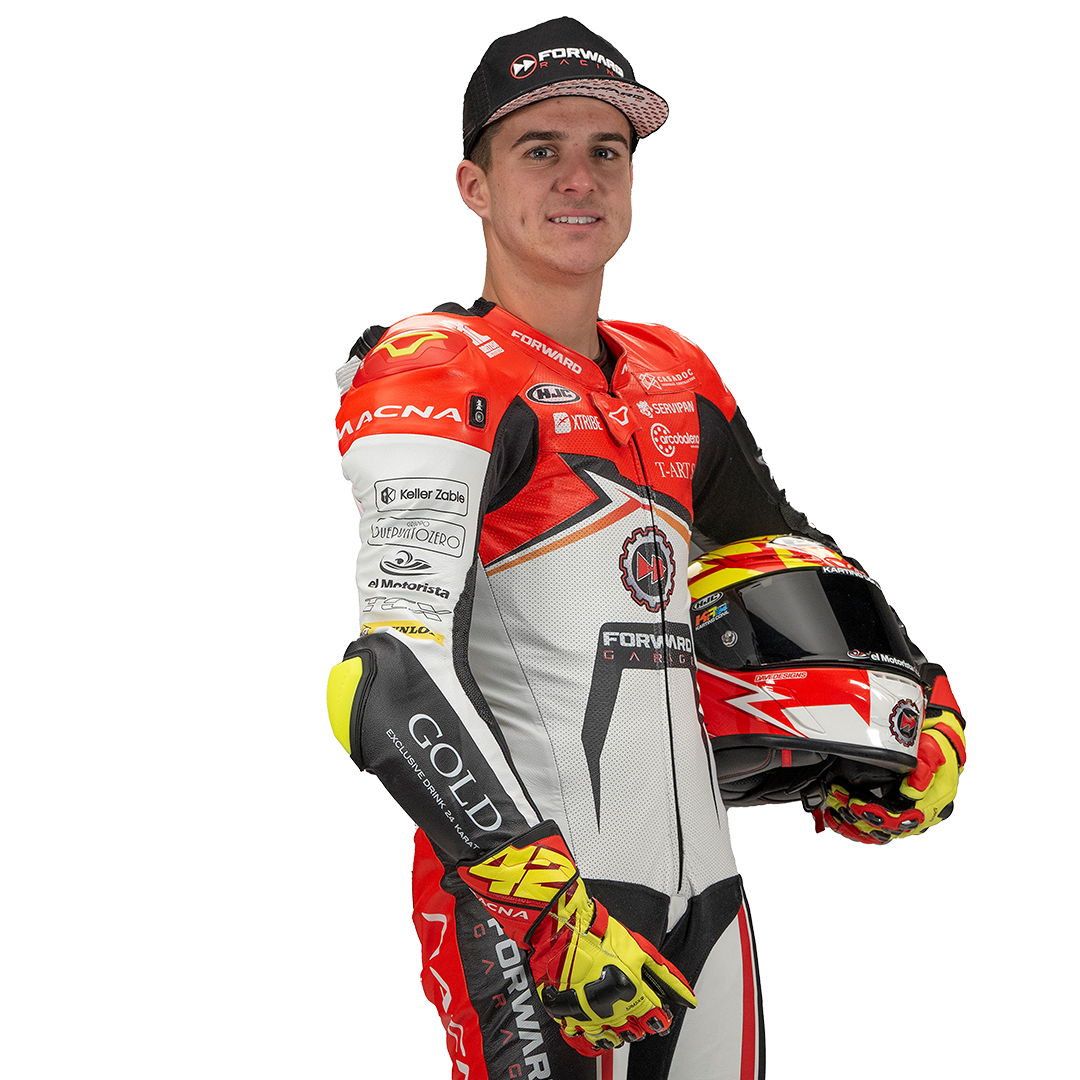 Marcos Ramirez #24



"Sono molto motivato per l'inizio di questa stagione perché la squadra ha fatto un grande lavoro quest'inverno, hanno lavorato sodo per fare una moto tutta nuova anche grazie a tutti i dati che abbiamo raccolto l'anno scorso. Adesso ci manca solo di andare ai test per arrivare pronti al Gp di Portimao, ma sono molto fiducioso nei confronti dei tecnici e dei meccanici e spero davvero che quest'anno faremo un buon lavoro e raccoglieremo i frutti del nostro impegno e del nostro lavoro".
Marcos Ramirez #24



"I am very motivated for the start of this season because the team has done a great job this winter, they have worked hard to make a whole new bike also thanks to all the data we collected last year. Now all we need to do is testing to get ready for the Portimao GP, but I am very confident with the technicians and mechanics, and I really hope we will do a good job this year and reap the rewards of our hard work."
Alex Escrig #17



"Per me sarà il primo anno nel mondiale Moto2 e per questo motivo sarà importante approfittare al massimo di ogni momento in pista. Insieme alla squadra sono sicuro che potremo crescere bene insieme sperando di fare una buona stagione. Il mio obiettivo è di essere Rookie of the Year e metterò tutto me stesso per dare il massimo ad ogni gara".
Alex Escrig #17



"For me it will be my first year in the Moto2 World Championship and for this reason it will be important to make the most of every moment on track. Together with the team I am sure we can grow well and hopefully have a good season. My goal is to be Rookie of the Year and I will give everything I can into every race".
---