DALLA PORTA CON IL TEAM FORWARD PER I GP DI MUGELLO, SACHSENRING E ASSEN.
30/04/2023

RAMIREZ UNFIT PER IL GP DI ASSEN
23/06/2023
Venerdì positivo per il Forward Team che chiude la giornata con buoni feedback.



Si è aperta oggi la ventiduesima edizione del Gran Premio del Sachsenring che, con il suo singolare tracciato composto da 10 curve a sinistra e 3 a destra, si configura come punto chiave della tradizione sportiva del Campionato del Mondo MotoGP. Questa prima giornata è stata caratterizzata da condizioni climatiche estremamente variabili e i piloti del team Forward hanno cercato di destreggiarsi al meglio delle loro possibilità: Marcos Ramirez, reduce da un GP del Mugello terminato troppo in fretta, ha sfruttato il turno del mattino per la messa a punto di alcune modifiche che lo hanno portato a chiudere il primo turno con un miglior crono di 1.25.187 migliorando di tre decimi il suo miglior tempo dello scorso anno in FP1. Dall'altro alto del box, Lorenzo Dalla Porta ha proseguito il suo percorso di familiarizzazione con la sua moto mostrando sempre un'attitudine propositiva e costruttiva. Nel pomeriggio i piloti della Moto2 sono scesi su una pista che presentava condizioni miste: un asfalto bagnato a chiazze ha inevitabilmente rallentato i tempi dell'intero schieramento. Nonostante ciò, i due alfieri del team italo svizzero, Marcos e Lorenzo, hanno chiuso la sessione rispettivamente in quarta e decima posizione. Il team insieme ai piloti proseguirà ora il lavoro di analisi dei dati, in vista di domani, con l'obbiettivo di centrare un buon risultato nelle qualifiche in visa della gara di domenica.
Positive Friday for the Forward Team who end the day with good feedback.





Today saw the opening of the 22nd edition of the Sachsenring Grand Prix which, with its unique track consisting of 10 left-hand and 3 right-hand corners, is a key point in the sport's MotoGP World Championship tradition. This first day was characterized by extremely variable weather conditions and the riders of the Forward team tried to juggle as best they could: Marcos Ramirez, back from a Mugello GP that ended too quickly, took advantage of the morning session to fine some changes that led him to close the first session with a best time of 1.25.187, improving by three tenths his best time of last year in FP1. On the other side of the box, Lorenzo Dalla Porta continued his familiarization with his bike, always showing a proactive and constructive attitude. In the afternoon the Moto2 riders took to the track in mixed conditions: a patchy wet tarmac inevitably slowed the times of the entire field. Despite this, the two Italian-Swiss team riders, Marcos and Lorenzo, closed the session in fourth and tenth position respectively. The team together with the riders will now continue the work of data analysis, with a view to tomorrow, with the aim of achieving a good result in qualifying ahead of Sunday's race.
---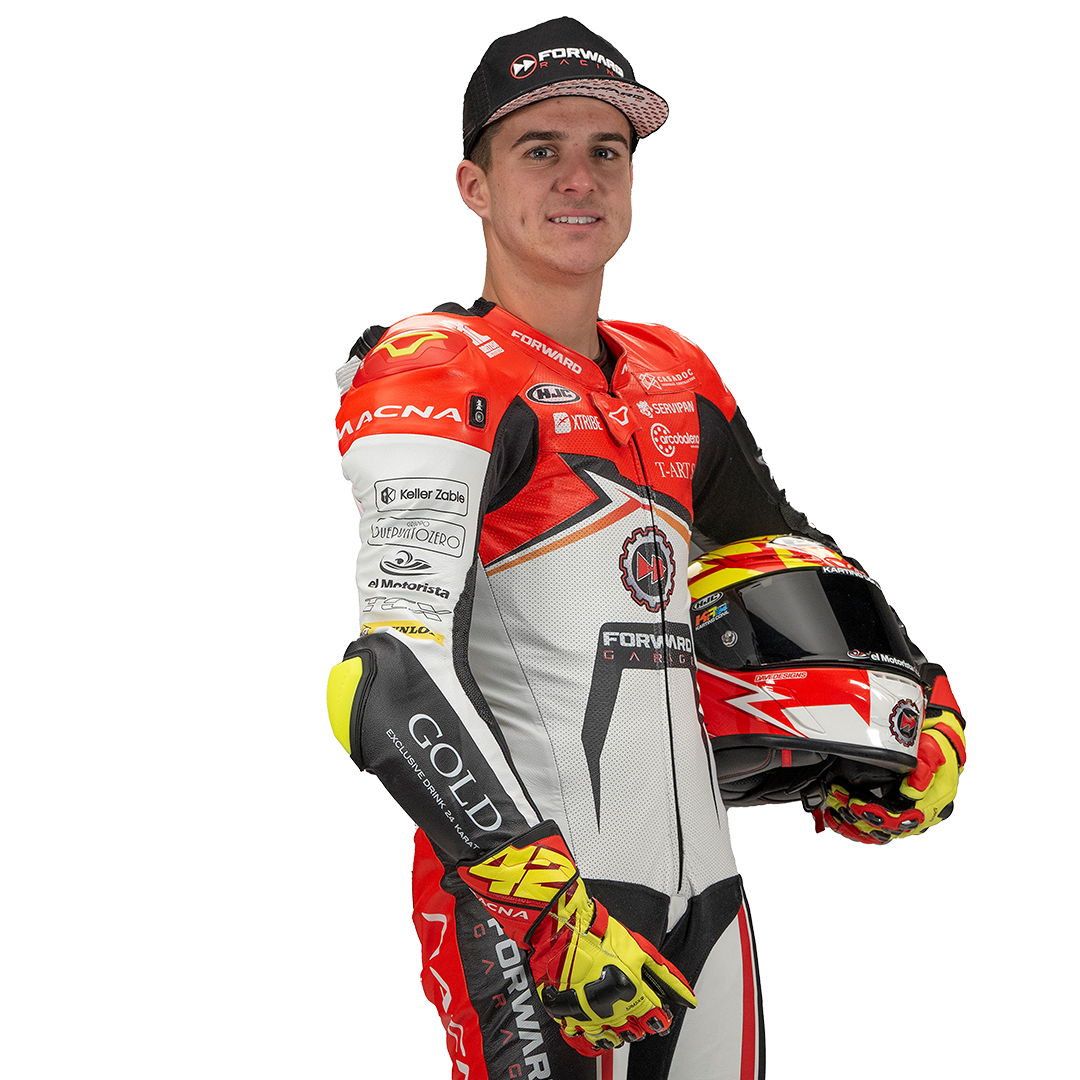 Marcos Ramirez #24



"Oggi mi sono sentito finalmente meglio! Il primo turno mi è mancato veramente poco per entrare finalmente in Q2 ma mi sento di dire che potevo farcela. Nel turno del pomeriggio le condizioni erano miste e noi abbiamo sfruttato al massimo il tempo in pista, ma domani sono sicuro che potremo fare bene. L'obiettivo ovviamente é la Q2".
Marcos Ramirez #24



"Today I finally felt better! In the first session I was really close to finally getting into Q2 but I feel like I could do it. In the afternoon session the conditions were mixed and we made the most of the track time, but tomorrow I am sure we can do well. The objective is obviously Q2."
Lorenzo Dalla Porta #19



"Questa mattina eravamo molto lontani, ma già in FP2 abbiamo fatto un passo avanti. La pista purtroppo era mezza asciutta e mezza bagnata. Domani mattina sicuramente riusciremo a ricontrarre i benefici delle modifiche apportate. Tra queste ed il mio impegno mi sento positivo in vista sia di FP3 che delle qualifiche".
Lorenzo Dalla Porta #19



"This morning we were a long way off, but already in FP2 we took a step forward. Unfortunately the track was half dry and half wet. Tomorrow morning we will definitely be able to reap the benefits of the changes we have made. Between these and my efforts I feel positive ahead of both FP3 and qualifying".
---